Community Commitment - Giving Back
Commitment to the Community is a Part of Everything We Do
Our mission drives every aspect of our organization. At Tennessee Urology, we strive to make a positive difference in the life of every patient. One of our core values is to support and give back to the communities in which we serve.
We Do So in Several Ways:
Prostate Cancer programs including free screenings and support groups.
Community education programs which include free educational seminars.
Employee engagement – All of our employees get involved in community activities through various company-sponsored events.
The Race to End Prostate Cancer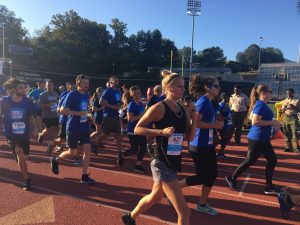 Tennessee Urology's signature community event is the ZERO Prostate Cancer Run/Walk, honoring Dr. Sanford Siegel, Chairman of United Urology Group. Dr. Siegel started the race in 2007 at Chesapeake Urology in Maryland to raise research funds and awareness for the disease that affects hundreds of thousands of men each year. More than a decade later, the race expanded from one event in Baltimore, Maryland to 43 cities around the country.
Money raised through the event goes to provide free prostate cancer screenings to at-risk men throughout the community. Money also goes to support prostate cancer research and advocacy and patient assistance programs efforts through our non-profit partner, ZERO-The End of Prostate Cancer.
ZERO Prostate Cancer Run/Walk – Register Today!
Tennessee Urology's Zero Prostate Cancer Run/Walk Will Be Held on Saturday, September 28, 2019 at UT Gardens in Knoxville, TN.
Register Today at www.ZEROKnoxville.org!
The 2019 ZERO Prostate Cancer Run/Walk – Knoxville features a 5K run/walk, 1 mile walk, Kids' Superhero Dash for Dad, organized Zumba workout, and virtual Snooze for Dudes program. Stick around for the family-friendly post-race celebration. Run/walk participants will receive shirts, free food and prizes, and the opportunity to connect with others who are impacted by prostate cancer.
The funds raised from 2019 ZERO Prostate Cancer Run/Walk – Knoxville are invested around the country to provide research for new treatments, free prostate cancer testing, and educate men and families about prostate cancer. No other prostate cancer charity spends more per dollar on programs – more than 86 cents. ZERO puts every donation to good use.
Register and Donate Today – www.ZEROKnoxville.org!