Types of Penile Implants
Semi-Rigid, Two-, and Three-Piece Inflatable Implants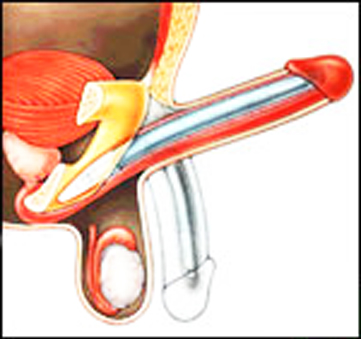 A semi-rigid implant is a pliable rod, which remains firm at all times. The patient uses the device by bending the penis away from the body to create an erection and bending it back toward the body to conceal.
The two- and three-piece inflatable prosthetic devices consist of a fluid-filled pair of cylinders implanted in the penis and a small pump implanted in the scrotum. Both are simple to use, completely concealed inside the body and produce an erection that looks and feels natural.
With the two-piece implant, you simply squeeze and release the pump several times. When the fluid is pumped into the cylinders, it creates an erection that provides rigidity.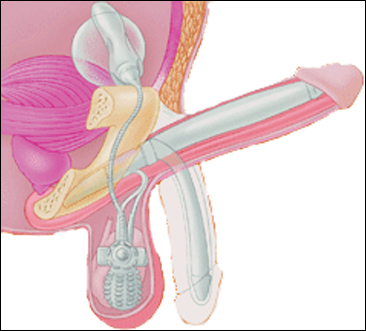 The three-piece inflatable device has an additional part – a reservoir that is implanted into the lower abdomen. When you are ready to have sex, you pump the fluid from the reservoir into the cylinders to create a rigid erection. After intercourse, you release the valve inside of the scrotum to drain the fluid back into the reservoir to return to flaccidity. The three-piece inflatable penile prosthesis creates a firmer erection than the two-piece device.
Advantages Versus Risks
Advantages of penile implants include:
Completely concealed inside the body
Simple to use
Devices are inflated to provide rigidity and deflated for concealment (inflatable implants)
Like a natural erection
When deflated, the cylinders are soft and flaccid (three-piece implant)
Completely discreet—no one will know you have it unless you tell them
Some of the risks/drawbacks include:
Requires some manual dexterity
Cylinders remain partially filled with fluid when deflated (two-piece device)
For semi-rigid implants, a less complex surgical procedure for placement in the penis than inflatable devices and less risk of mechanical failure
Mechanical failure