Microsurgical Denervation of the Spermatic Cord
A Life-Changing Treatment for Chronic Testicular Pain
Microsurgical denervation of the spermatic cord, also known as cord stripping, is a microsurgical technique to treat chronic testicular pain in men who have not had success with conservative treatments. This surgery is life-changing for men whose chronic testicular pain has no known cause.
Success in Less Than One Hour
Microsurgical denervation is performed by a urologic surgeon in an outpatient surgery facility. The procedure takes approximately 45 minutes. Patients receive spinal, general, or twilight anesthesia for the procedure.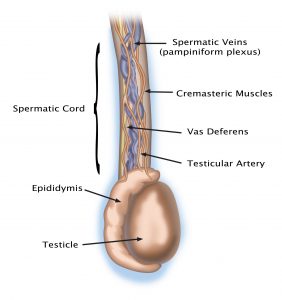 The spermatic cord contains many blood vessels and tiny nerves and is connected to the abdomen. To perform microsurgical denervation, the surgeon makes a small incision of only two inches in the groin to access the spermatic cord. Using an operating microscope, the surgeon separates and removes the small nerves in the spermatic cord, thus eliminating or reducing the nerves that are carrying the pain signals. The arteries to the testicle and lymph glands are left untouched.
Studies have shown that microsurgical denervation has a high success rate and preserves the physiological function of the testes. According to the studies, approximately 75 percent of patients receive complete pain relief, and another nine percent receive partial pain relief. The results are immediate. The success rates at Chesapeake Urology are even higher than these studies.
Chesapeake Urology one of the first and only urologic practices in the region to offer microsurgical denervation, providing relief to many grateful men.
A Quick Return To Everyday Life
Patients recover at home in approximately two to five days and can return to their normal activities and work.
Post Vasectomy Pain Management
Chronic pain after a vasectomy, called post-vasectomy pain syndrome, is a form of chronic scrotal pain that has been attributed to congestive epididymitis or CTP. This pain affects the quality of life in 2.2 percent of men with this problem. Microsurgical denervation of the spermatic cord is one surgical treatment for this pain. Other surgical methods for resolving this pain include vasectomy reversal, conversion to an open-ended vasectomy, excision of a sperm granuloma, or epididymectomy.