Pelvic Floor Therapy for Men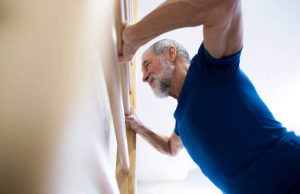 Pelvic therapy is a firstline treatment for many pelvic floor disorders and conditions including urinary incontinence. For men, strengthening the pelvic floor muscles is an important part of the overall treatment for pelvic health issues.
Patients who are referred to pelvic health therapists typically have conditions that include:
Our experienced pelvic health therapists provide patients non-surgical treatment for complex conditions including patients with spinal cord injuries, musculoskeletal issues, and patients with neuromuscular disorders including Parkinson's disease and multiple sclerosis.
Pelvic Therapy for Prostate Cancer Patients
Pelvic health therapists work with men going through prostate cancer treatment, including surgery, on managing symptoms pre- and post-treatment.
Pre-surgical therapy – The therapist will discuss any urinary or pelvic floor issues a man may have prior to surgery for prostate cancer (radical prostatectomy or removal of the prostate, for example). Our therapists will educate men on how the pelvic floor muscles work and why it is important to strengthen them (Kegel exercises) before surgery. Men are taught about the pelvic floor muscles' role in keeping them dry after surgery, and your therapist will go over some post-operative precautions, offer information on urinary frequency and urgency, and provide a home exercise program to begin before surgery to reduce the occurrence of leakage, urinary frequency/urgency, swelling, and post-operative pain.
Post-operative prostate cancer therapy – The pelvic health therapist will re-evaluate the patient following prostate surgery to assess any issues they are having such as pelvic floor muscle weakness, urinary frequency, urgency, leakage, pain, etc. The therapist will then discuss voiding habits during the day and night, urinary leakage, and offer behavioral training, pelvic floor exercises, manual therapy, and new therapeutic exercises personalized for each man and the specific symptoms they are having.
Tools for Managing Men's Pelvic Health Issues
As a first line therapy for pelvic floor disorders, pelvic health therapists utilize advanced techniques for effective treatment. Therapy begins with a comprehensive exam of the pelvic floor muscles to aid in an accurate diagnosis.
Therapy typically includes one or more of the following:
Pelvic floor muscle exercises – Therapists provide instruction on performing pelvic floor muscle exercises (Kegels) properly for optimal results. A trained pelvic health therapist will show you how to perform Kegels correctly. Strong pelvic floor and sphincter muscles help control urine leakage. Your pelvic health therapist will show you how to perform these exercises to promote muscle strengthening, relaxation, and coordination.
Bladder training or delayed voiding – This involves controlling the urge to urinate by waiting a few extra minutes after you feel the urge at first, and then gradually increasing the time between bathroom visits. Manual therapy including strain/counter-strain, positional release, scar mobilization, MFR, trigger point releases, fascial releases, neural tension stretching.
Other therapy modalities include heat, ICE, and/or electrical stimulation (internal and external).
Education on proper diet, breathing, daily fluid intake, activities of daily living (ADL), and toileting postures.