Microsurgical Vasectomy Reversal in Maryland & Delaware
Helping You Conceive a Child Naturally
Microsurgical vasectomy reversal is a delicate and complex operation performed to re-establish the pathway of sperm into the ejaculate. This microsurgery is done to reverse the effects of a vasectomy, which cuts the vas deferens. Sperm are made in the testes and then travel through the vas deferens into the ejaculate. A vasectomy creates a blockage in this tube, and a vasectomy reversal is a procedure to bypass this blockage.
Microsurgical Skills Make A Big Difference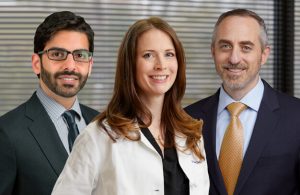 The success of a vasectomy reversal is increased when performed microsurgically by a urologist who is fellowship-trained in male infertility and microsurgery and who performs vasectomy reversals on a regular basis. Choosing a surgeon with extensive experience and a proven track record is the best option to help you achieve your dream of having a child naturally. Approximately 50,000 vasectomy reversals are performed in the U.S. each year, but there are only about 600 fellowship-trained male infertility microsurgeons nationwide.
In the Mid-Atlantic region alone, there are very few, and right here in Maryland, we have Drs. David Fenig, Melissa Mendez, and Devang Sharma. Our microsurgeons trained at some of the most prestigious programs in the United States for male reproductive medicine and surgery. Our expert physicians combine their advanced training with a compassionate, personal approach to patient care – they are truly dedicated to helping their patients achieve the dream of conceiving a child naturally.
Collectively, our surgeons have over three decades of combined microsurgical experience and have a vasectomy reversal success rate of over 90%*.
Our Patients Are Like Family
Our team is here to achieve one goal: to successfully reverse vasectomies and help couples conceive their children naturally. Every step of the way, we are here to assist in the process of achieving fertility. Our mission is to provide every patient with a superior experience. Our caring doctors, nurses, and staff are dedicated to our patients. We will do everything possible to ensure that your care meets and exceeds your expectations.
Call 855-428-3222 to schedule an in-person or virtual consultation with one of our vasectomy reversal specialists.
*Individual results may vary.