Vasectomy Reversal Surgeons
Choosing the Right Vasectomy Reversal Surgeon for You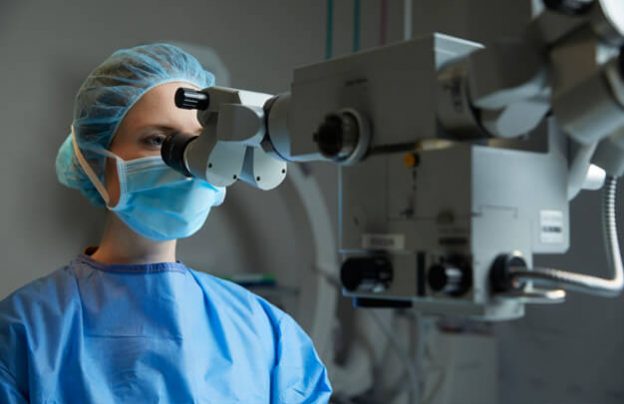 All vasectomy reversal surgeons are not created equal, which is why it's very important to do your homework and understand the differences between a urologist who does reversals and a microsurgeon who has years of specialty training and expertise in performing this delicate procedure. The skill, experience, and training of a physician truly make the difference when it comes to the best outcomes of a vasectomy reversal. It's important to go to a surgeon who has been trained in microsurgery and who performs reversals on a regular basis. Chesapeake Urology's vasectomy reversal specialists are fellowship-trained in microsurgery and male reproductive medicine and have extensive experience, and success, performing vasectomy reversals.
To understand how a skilled microsurgeon can produce such high success rates, it's important to understand what goes into performing such a delicate procedure.
In a vasectomy reversal, the structures that are being operated on – the vas deferens and/or the epididymis – can range in size from ½ to ⅕ mm in diameter. To put this into perspective- the structures are very tiny, about the size of a pinhole. It takes a significant degree of magnification to visualize such tiny structures and repair them properly. This is where microsurgery comes into play. Because of the extremely small size of these vessels, they cannot be seen with the naked eye, nor can they be effectively visualized with magnifying loops (the magnification glasses worn by some surgeons that only magnify an area 2 to 3 times).
A microsurgeon is trained to use a powerful microscope that magnifies the area more than 20 times. Because precise suture placement is imperative when performing a vasectomy reversal, this magnification, as well as the skill and expertise in performing the more challenging procedure called an epididymovastomy for men who have a blockage in the epididymis, is vital. Unless a surgeon uses a high-powered microscope, he or she cannot detect a blockage in the epididymis and it is technically difficult to perform an epididymovastomy.
What Determines Success?
The success rate of the general urologic surgeon is about 30 to 40 percent, while our fellowship-trained microsurgeons have vasectomy reversal success rates of over 90 percent*. There are only a handful of fellowships in microsurgery and male infertility nationally and only a select number of urologists throughout the country have completed this training. Our surgeons take on the most complex cases including re-dos and are experts at the more delicate microsurgery called epididymovasostomy, needed in many patient cases when a blockage is discovered in the epididymis. They have also had success performing vasectomy reversals on patients whose vasectomies were performed over 40 years ago and wish to become fathers again.
*Individual results may vary.
Ask Questions
When choosing a surgeon to perform your vasectomy reversal, it is essential to choose wisely. Call and speak to a prospective surgeon about his/her training and expertise prior to making a consultation appointment and ask the surgeon a few important questions such as:
How many reversals have you performed?
What are your personal success rates?
How regularly do you perform vasectomy reversals?
Do you have a dedicated surgical team?
Are your procedures performed using a high-powered microscope?
What does follow-up care entail?
The Initial Consultation – What to Expect
The first step in your journey is a consultation with one of our infertility specialists. During the consultation, your physician will take a detailed medical history and discuss any medical concerns and medications that you are on, in addition to learning about your fertility history. Men are encouraged to bring their partners with them to the consultation. Your physician will take the time to explain the anatomy and production of sperm and discuss in detail the two types of blockages that may be involved as well as the reconstruction process. You'll be well informed about what to expect pre-operatively, on the day of surgery, and during your recovery, so you and your partner can make the most informed decision.
When it comes to realizing the dream of conceiving a child naturally, having a vasectomy reversal performed by a highly trained and experienced microsurgeon affords patients the very best outcome – a baby.
Contact us to schedule an in-person or virtual consultation with one of our vasectomy reversal specialists.