Patient Navigator for Urinary Incontinence
Women who experience bladder control problems or who have been recently diagnosed with urinary incontinence need someone on their side who understands the emotional and physical impact of these conditions.
Chesapeake Urology's dedicated incontinence patient navigator is your advocate and best resource when it comes to managing incontinence. A registered nurse with more than three decades of experience, Chesapeake Urology's patient navigator, Sue Spurlock, RN, CURN, supports and manages a woman's experience with urinary incontinence from initial diagnosis through treatment. In fact, incontinence patients who work with our patient navigator often see better outcomes and satisfaction with their treatment and recovery.
What Does a Patient Navigator Do?
Chesapeake Urology's incontinence patient navigator, Sue Spurlock, works with patients from the very beginning, steering them in the right direction and ensuring their optimal care. Open communication is a vital component of the patient navigator relationship. Sue works directly with the urologists to coordinate your care and get answers to your questions.
Here is what you can expect from your patient navigator:
Following referral by your physician, the patient navigator will call you to see if you have any questions about your doctor's visit or diagnosis. She will then send you a patient packet chock full of important information and patient resources.
About a week later, your patient navigator will call to follow up again and answer any questions you may have as well as review some of the important information in the patient packet.
You will discuss treatment options for your bladder control condition including medications, physical therapy and surgical options.
Sue will then assist with scheduing necessary appointments for testing, physical therapy consultations and surgical procedures.
The patient navigator is available any time to answer questions, get answers from your doctor and address any concerns you have about your bladder control problem and treatments.
For patients undergoing a surgical procedure to implant a neurostimulation device such as InterStim, your patient navigator will contact you pre- and post operatively to ensure that the neurostimulation device is working properly. She will also work with you to ensure your comfort in operating the device for optimal outcomes.
Meet Sue Spurlock, RN, CURN, and Read More About the Role of the Patient Navigator for Urinary Incontinence Patients...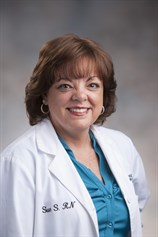 "The patient navigator is an essential part of the patient experience, especially for women going through urinary incontinence," says Sue Spurlock, RN. "In addition to serving as a patient's advocate and helping them through the process of diagnosis and treatment, I really get to know my patients and develop strong relationships with them as I work to help them."
"I find that many women experiencing urinary incontinence issues are often too embarrased to talk to their doctor about their emotions and concerns. Patients do feel comfortable opening up to me, and I'll sometimes stay on the phone with someone for an hour. These patients really need someone to talk to about their health issues and I'm glad I can fill this role for them."
"Women often don't understand just how common bladder control issues are. Some women will wait six or seven years before they seek treatment because they are too embarrased or just don't know who to turn to for help. During this time, women with incontinence issues will often stop going out with friends, stop socializing and being a part of the community in which they were once active. I see many women just giving up their lifestyle out of fear that they might leak in public, or even smell of urine."
"It's so important for women to know that they can turn to the experts at Chesapeake Urology for help with incontinence. Being able to help women is such a wonderful feeling for me. I truly love my job and being able to help support my patients."