Bladder Cancer
The Region's Leading Experts in Diagnosis and Treatment of Bladder Cancer
At Chesapeake Urology, our physicians are leading experts in the diagnosis and treatment of bladder cancer. Our team of cancer professionals is dedicated to delivering the most advanced, compassionate and personalized care to ensure the best possible outcomes for our patients. Our physicians are on the leading edge of the most sophisticated technology, diagnostic and minimally invasive surgical procedures, as well as clinical trials. Not only do our cancer specialists deliver the most advanced medical, surgical and oncologic care, but they do so with compassion, so you can feel confident that you are in the very best hands.
About Bladder Cancer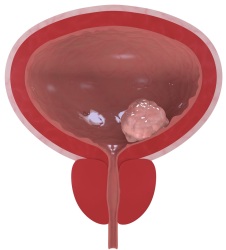 The bladder is a balloon shaped organ that collects urine from the kidneys and bladder cancer stores it until it is eliminated through a tube called the urethra. The most common type of bladder cancer, transitional or urothelial cell, starts in the lining of the bladder.
Bladder cancer is highly treatable in the early stages of the disease, which is why it's important for you to be seen by an experienced urologist when exhibiting any unusual bladder symptoms.
Meet Chesapeake Urology's bladder cancer specialists.
Common Symptoms
Early stages of bladder cancer often produce no symptoms. Your first warning sign may be hematuria (blood in your urine that may be visible or only be visible under a microscope).
Other less common symptoms include:
Painful urination
Frequent urination or feeling an urge to urinate without results
Slow or intermittent urine stream
Pelvic pain
These symptoms may indicate other medical problems, such as urinary tract infections or bladder stones; you will need a thorough evaluation to determine the cause.
Who's at Risk?
The following factors increase your risk of developing bladder cancer:
Cigarette smoking - the single greatest risk factor for bladder cancer
Exposure to industrial chemicals
Chronic bladder inflammation or foley catheter use
Chemotherapy or radiation therapy for other cancers
Diagnosing Bladder Cancer
Because bladder cancer is highly treatable in the early stages of the disease, it's important to see your doctor if you are experiencing any unusual symptoms. Chesapeake Urology's physicians are experienced in the latest diagnostic techniques that can identify bladder cancer quickly and accurately. Your doctor will first perform a thorough history and physical exam and will perform blood work.
Treating Bladder Cancer
A Chesapeake Urology bladder cancer specialist will develop a personalized and comprehensive treatment plan that best meets the individual needs of the patient and coordinate care with the patient's primary care physician.
Surgical and other therapeutic approaches include:
Transurethral resection (TUR)
Radical cystectomy
Radiation therapy
Chemotherapy
Immunotherapy
Robotic cystectomy
Urinary diversion