Kenneth Langer, MD, Named UroLift Center Of Excellence - Chesapeake Urology
Kenneth F. Langer, MD, Designated A UroLift® Center Of Excellence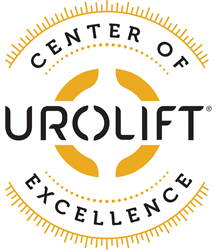 (April 28, 2020) — Kenneth Langer, MD, has been designated a UroLift® Center of Excellence by NeoTract. The designation recognizes that Dr. Langer has achieved a high level of training and experience with the UroLift® System and demonstrated a commitment to exemplary care for men suffering from symptoms associated with Benign Prostatic Hyperplasia (BPH), also known as enlarged prostate. Dr. Langer has performed over 200 UroLift procedures for men living with BPH.
The UroLift Center of Excellence program is designed to highlight urologists who are committed to educating their patients on BPH and the UroLift System as a treatment option and consistently seek to deliver excellent patient outcomes and experiences. Recommended for the treatment of BPH in both the American Urological Association and European Association of Urology clinical guidelines, the FDA-cleared Prostatic Urethral Lift procedure using the UroLift System is a proven, minimally invasive technology for treating lower urinary tract symptoms due to BPH.
"We are proud to name Dr. Kenneth Langer as a UroLift Center of Excellence and provider of care for men with enlarged prostate symptoms using the UroLift System treatment," said Dave Amerson, president of the Teleflex Interventional Urology business unit.
Read the full press release HERE.