Bart Radolinski, M.D. Designated a UroLift® Center of Excellence - Chesapeake Urology
Chesapeake Urology Announces Dr. Bart Radolinski's Designation
as a UroLift® Center of Excellence
Designation Recognizes Dr. Radolinski's Commitment to Exemplary Care,
Deep UroLift Experience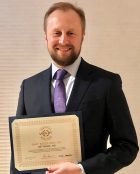 (May 24, 2019) – Chesapeake Urology announced that Bart Radolinksi, M.D., has been designated as a UroLift® Center of Excellence. The designation recognizes that Dr. Radolinski has achieved a high level of training and experience with the UroLift® System and demonstrated a commitment to exemplary care for men suffering from symptoms associated with Benign Prostatic Hyperplasia or BPH. He joins Chesapeake Urology's Sankar Kausik, M.D., in this prestigious recognition.
"The UroLift System is a breakthrough minimally invasive treatment that typically takes less than an hour and can offer multiple benefits for men with enlarged prostate – no cutting, heating, or removal of tissue, minimal downtime, no compromise of sexual function, and no need for continued medications," said Dr. Radolinski, whose office is located in the Bethesda, MD area. "I am proud to be a national leader offering this treatment option for men."
About BPH and The UroLift System
Nearly 40 million men in the United States are affected by BPH or an enlarged prostate. Not to be confused with prostate cancer, BPH occurs when the prostate gland that surrounds the male urethra becomes enlarged with advancing age and begins to obstruct the urinary system. Symptoms of BPH often include interrupted sleep and urinary problems and can cause loss of productivity, depression, and decreased quality of life.
Medication is often the first-line therapy for enlarged prostate, but relief can be inadequate and temporary. Side effects of medication treatment can include sexual dysfunction, dizziness, and headaches, prompting many patients to stop using the drugs. For these patients, the classic alternative is surgery that cuts, heats, or removes prostate tissue to open the blocked urethra. While current surgical options can be very effective in relieving symptoms, they can also leave patients with permanent side effects such as urinary incontinence, erectile dysfunction, and retrograde ejaculation.
Five-year data from a randomized study shows the UroLift System offers not only rapid improvement but also durable relief for patients with BPH. After five years, patients treated with the UroLift System continue to experience symptom relief with minimal side effects, with few patients requiring an additional procedure for relief.[1]
For more information about BPH and the UroLift Treatment offered at Chesapeake Urology, men can visit https://bphrelief.chesapeakeurology.com/.
About Chesapeake Urology
Chesapeake Urology is a fully integrated urology practice providing a comprehensive array of urologic services to its patients. The Company operates 24 medical offices and 17 AAAHC-certified ambulatory surgery centers in Anne Arundel, Baltimore, Harford, Howard, Carroll, Montgomery, Prince George's, Wicomico, Worchester counties in Maryland, Baltimore City, and Sussex County, Delaware, and has a staff of more than 800 including 87 physicians, 80 who are urologists. Chesapeake Urology has been named one of the top places to work in healthcare nationally by Modern Healthcare magazine and Becker's ASC Review, and locally by the Baltimore Sun, Baltimore magazine, and the Baltimore Business Journal.
###
Media Contact:
Patricia Schnably, Vice President, Marketing & Communications
United Urology Group
25 Crossroads Drive, Suite 306, Owings Mills, MD 21117
443-738-8107
pschnably@uniteduro.com
[1] Roehrborn et al. Can J. Urology 2017