Chesapeake Urology Welcomes Congressman Andy Harris to New Facility in Salisbury - Chesapeake Urology
Chesapeake Urology Welcomes Congressman Andy Harris
to Tour New Facility in Salisbury, MD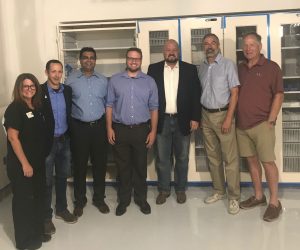 Congressman Andy Harris received a warm welcome and tour of Chesapeake Urology's soon-to-be-open Salisbury, MD office building. Pictured (L-R): Angela Jefferson, Nurse Practitioner; Michael Synowiec, Site Manager; Joy Maulik, Nurse Practitioner; Mark Shimko, M.D.; Mark Edney, M.D.; Congressman Andy Harris; Brad Lerner, M.D., President, Chesapeake Urology.
September 6, 2019 (Salisbury, MD) — Chesapeake Urology's team located on the Eastern Shore and in Delaware recently welcomed Congressman Andy Harris (MD-1) to tour the practice's new, state-of-the-art office and ambulatory surgery center in Salisbury, MD, which is slated to open early Fall 2019. Congressman Harris was given a private tour of the new facility, discussing Chesapeake Urology's unique model of patient care as well as the challenges facing many physicians and practices in the more rural regions of Maryland.
"We were honored to host Congressman Harris for a tour of Chesapeake Urology's soon-to-open facility in Salisbury," said Mark Edney, M.D., one of the practice's four physicians serving patients in Maryland's Eastern Shore and in Seaford, DE. "We talked about the importance of independent, integrated urology care models as well as the challenges of recruiting new doctors to rural areas."
Chesapeake Urology's new Salisbury office will be a modern, free-standing facility that will include a cutting-edge ambulatory surgery center with a fully-equipped operating room and two procedure rooms for a variety of outpatient urologic surgeries. The facility will also feature 10 patient exam rooms and an ultrasound room. Four urologists serve patients in this area: Mark Edney, M.D.; Harold Genvert, M.D.; C. Doyle Maull, M.D.; and Mark Shimko, M.D. The new Chesapeake Urology office will be located at 1111 Mount Hermon Road in Salisbury, MD.
In 2018, Peninsula Urology Associates and its team of four board-certified physicians and close to 40 staff members joined Chesapeake Urology, a member practice of United Urology Group. The partnership further expanded Chesapeake Urology's comprehensive care model and clinical services to patients throughout the Eastern Shore and Delaware.